With mortgage rates nearly double last year's and inflation the highest it's been in four decades, many prospective home buyers are wondering if buying a home in Las Vegas is the right move. Similarly, current Vegas homeowners have questions about how to move forward. Should they cash in on surging equity appreciation? Or would it be better to hold on to the low mortgage rate they locked in years ago and stay where they are?
Here are some factors worth considering before making any decisions. One: where do you see yourself living long-term? Two: how does Vegas compare with the rest of the country when it comes to cost of living and home value appreciation? Three: what segment of the Vegas housing market are you looking to buy—the under $500,000 segment or the luxury tier?
We've analyzed the data. Let's see what it says.
First, what's going on with the overall real estate market?
Though the U.S. housing market is expected to cool, buying activity is still projected to hit a 15-year high this fall, second only to the buying activity of 2021. And certain areas in the country will continue to experience growth rates much higher than the national average. Recently, Forbes put 3 Nevada cities in its June 2022 list of Top 10 Cities Where Home Prices Have Risen Most. Those cities include Enterprise, North Las Vegas, and Paradise. When we look into why southern Nevada is so appealing to prospective homebuyers, we begin to see that this state, and Las Vegas in particular, is indeed a wise bet when it comes to spending your hard-earned cash on a place to live.
How exactly do things look in Vegas?
Multiple headlines across media outlets declare that we're a city with a very hot real estate market. Vegas home values have appreciated 30.1% since last year. That's more than 10% higher than the typical home value in the rest of the country—19.8%.Though those prices are climbing, housing here is much more affordable than in the rest of the country. The median amount spent on housing in Vegas is 18.2% of an individual's income as opposed to the ultra-high 30% national average. Looking for a good place to ride out inflation? With the overall cost of living 3.1% less than the national average, Vegas is where you want to be.
Are there any factors we should be weary of?
Price reductions are an important leading indicator to see where the market is headed. In a normal market, about a third of listings take a price cut. In the beginning of 2022, price cuts were rare, but now we're seeing them again. Mistakenly, many folks think these suggest a potential bubble or even a crash about to hit the market. While, yes, price reductions indicate a shift taking place, contrary to what many fear-mongering headlines will have you believe, they don't necessarily suggest the overall rate of home value appreciation is coming down.
Let's look closer at the data and what it means:
In June 2022, 36.4% of homes listed for sale in Vegas experienced a price drop, up 22.4% from last year. That's significant and it does put Vegas above the typical 30% in price reductions, but it doesn't necessarily mean home values are dropping overall. 49.6% of homes in Vegas are still selling above the listing price. And Redfin ranks the Las Vegas housing market as "Very Competitive" on their Redfin Compete Score. In fact, the average Vegas home is selling after only 19 days on the market, compared to the nationwide average days-on-market for June 2022 (32 days). So, Vegas homes are selling 40% faster than homes in the rest of the country.
Unless Vegas sees a significant rise in inventory (which is unlikely to happen for reasons we'll explain below), those values are going to continue to grow. They won't be spiking as rapidly as they have since 2021, but they'll be growing at a steady pace.
So, what's happening with inventory in the housing market?
The national average for inventory right now stands at less than half the typical level. Nationwide, the market would need to more than double its housing inventory to get back to normal. Some factors preventing that increase in U.S. inventory include the constraints on new home building caused by supply chain issues, the large percentage of institutions that have bought up homes and kept them off the market, and the current high mortgage rates which dissuade homeowners from giving up the low rates they've locked in when they bought their properties years ago. All these factors are keeping the local and national housing availability from rising back to the normal level, and so prices will continue to remain high.
And inventory in Las Vegas?
According to the above chart from the Federal Reserve of St. Louis, since July 2016, Vegas' housing inventory has varied between 8-9,500, with inventory then falling drastically in September of 2020, reaching a record low in February 2022 with only 3,582 active listings. Since March, inventory has been rising (as of June 2022 it was up to 6,579) but it's not yet near the normal levels (it would need to add 1,500-3,000 more listings to get back to typical). The continued low inventory will keep home prices from falling.
Where is inventory projected to go in the future?
Data from Altos Research shows that total inventory of homes for sale in the overall U.S. market rose 31% since last year. Altos' CEO Mike Simonsen expects "a few more weeks of hefty increases in inventory this summer," ultimately projecting nationwide inventory will peak between September and October with an estimated 622,661 homes on the market. Still, the country's inventory will be about 200-400,000 below typical pre-pandemic levels recorded in 2016-2019.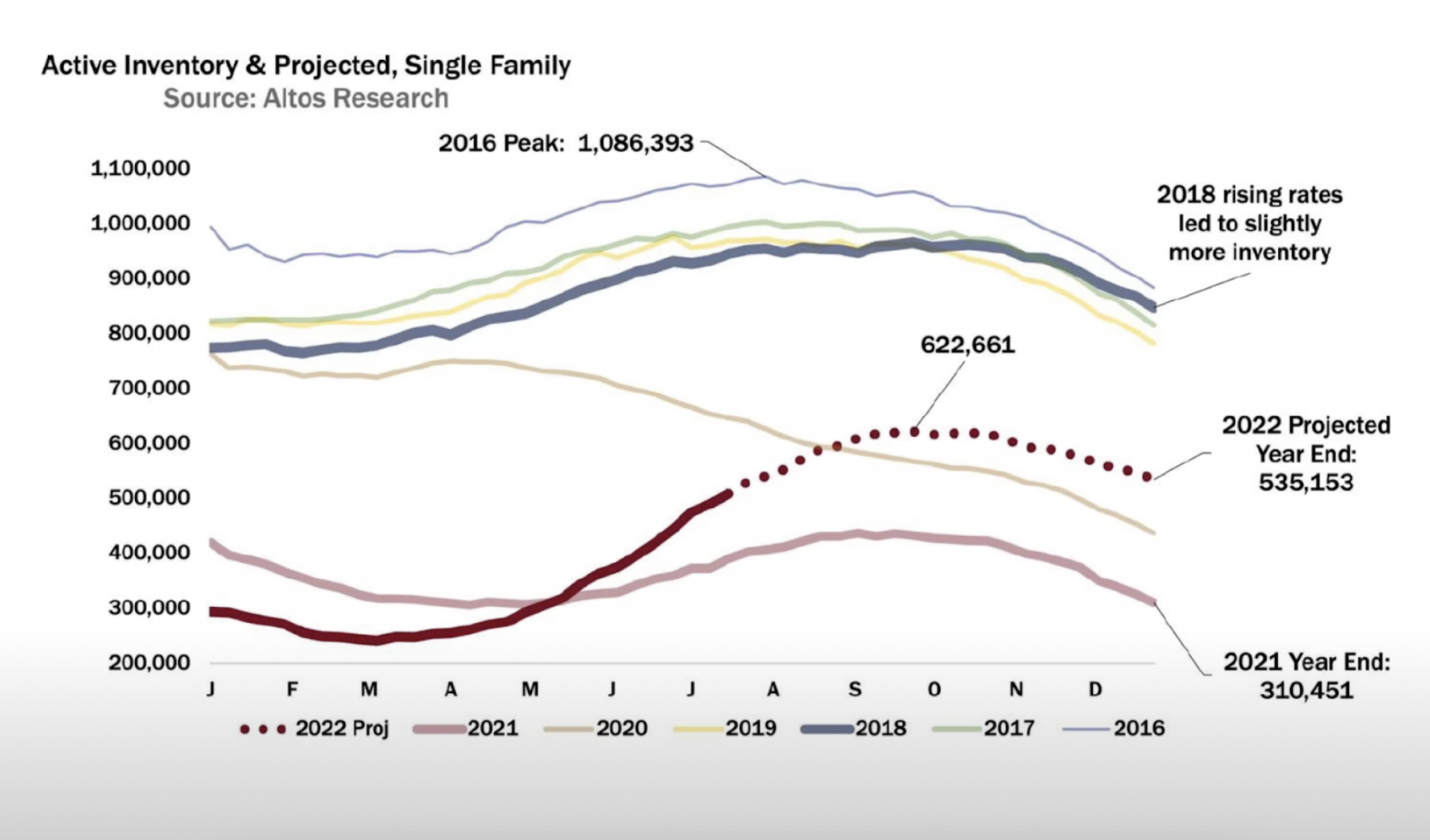 Looking specifically at Vegas, we see inventory rising, but the overall chart is a bit deceiving.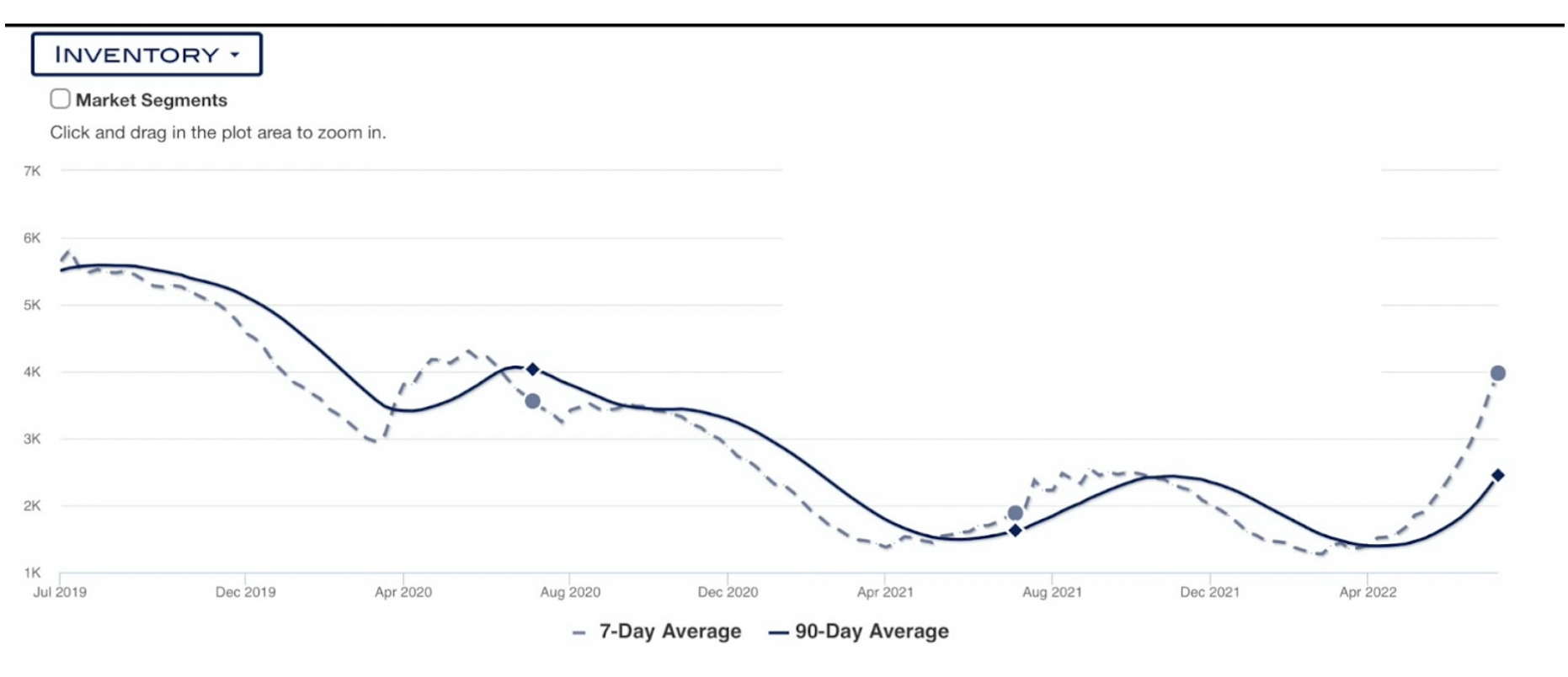 Based on the above graph, it appears inventory is beginning to soar across the Las Vegas market, nearing 2020 levels, but when we look closer at what segment of the market is increasing, a different story emerges.
Across the southern Nevada MLS, much of the rising inventory is in the $750,000+ price range. This is the segment that has the greatest slow-down in terms of sales, whereas the under $500,000 segment has the least amount of inventory and the most interest from buyers. This chart from Altos Research breaks the Vegas market into price tiers: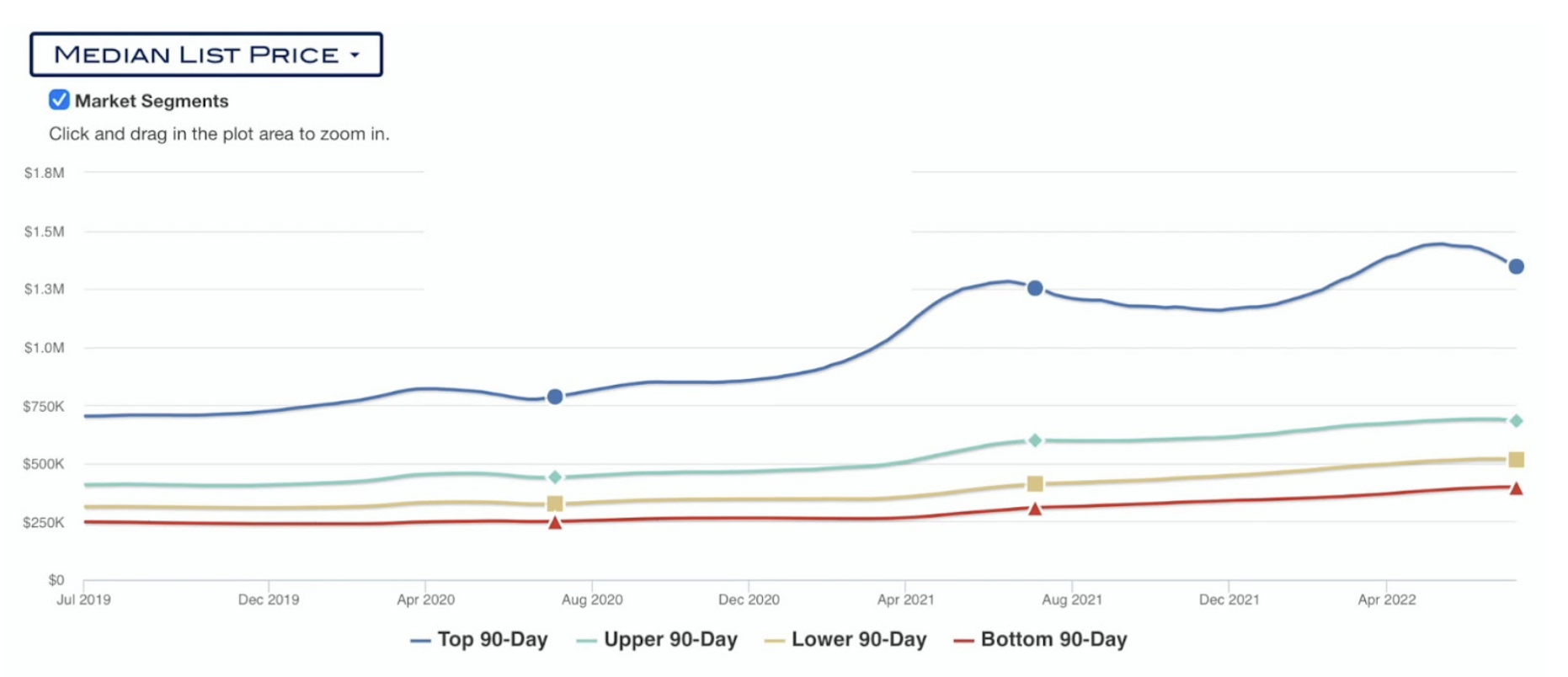 As you can see, homes under $500,000 have seen a steady upward growth, whereas the luxury homes in the $750,000 and over price range experience more volatility, with the most recent correction (starting in about May 2022) resulting from rising interest rates. This rise in interest rates has inspired buyers in that price range to opt for a lower priced home, pushing inventory in the lower-priced tiers downward and keeping prices for all homes under $500,000 high.
What we're finding isn't that the number of interested buyers in Las Vegas is decreasing, but rather, the high mortgage rates are encouraging prospective homeowners to choose homes in a lower price category.
Our advice to sellers: if you have a home in the under $500,000 category, you'll likely have a lot of interested buyers ready to pounce. If, on the other hand, the home you want to sell is in the luxury tier, you'll need to make sure you price it competitively, use a smart approach to marketing, and be prepared for the possibility of having it on the market for slightly longer than expected.
And if you're a prospective buyer in the $500,000 and below price-range? Be patient. You'll likely face competition when putting in an offer, that's why it's important to work with a good agent who can help you make your bid the most appealing. But once you secure that home, you'll be in a good position to enjoy the appreciation in value that is so consistent in this price segment.
And mortgage rates? Are they going down anytime soon?
Based on some opinions of leading experts, it seems mortgage rates are forecasted to continue increasing for the foreseeable future. Danielle Hale, chief economist at Realtor.com projects, "I expect mortgage rates to move toward 5.5% by the end of 2022."
This means Vegas homebuyers will be continuing to populate the under $500,000 market and inventory will remain rising in the luxury tiers.
Inflation, too, will likely remain an issue for quite a while. Recently, Goldman Sach's CEO Michael Solomon stated that while inflation is expected to "move lower in the second half of the year," he warned that it is currently "deeply entrenched" in the U.S. economy. Unlike so-called transitory inflation, entrenched inflation occurs when price increases hit segments of the economy that aren't likely to come down soon.
In the below chart from the Bureau of Labor Statistics, you'll see individual earnings—adjusted for inflation—are at record lows even though average weekly earnings have risen 4.2% from a year earlier. Everyone who isn't lucky enough to have been given an 8.6% raise this year, is likely looking for ways to be more economical, and since Vegas grants its residents a lower cost of living and lower housing cost than elsewhere in the nation, it's an attractive place to settle down.
With inflation projected to remain high, mortgage rates staying high, and home prices continuing to rise for the foreseeable future, taking the leap and beginning your Vegas home ownership journey now might be the way to go (depending on your individual financial situation, of course). Historically, real estate has always been a good hedge against inflation. According to T. Rowe Price, real estate is among the commodities that perform well during inflation cycles.
In Vegas, this might be especially true as home values have increased at a rate more than 10% higher than the rest of the country over the past year.
Freddie Mac projects nationwide home price growth will rise 5% in 2023, so if the Vegas numbers continue on a similar trajectory, they might rise as much as 15% through 2023.
With no near-term relief from inflation and high mortgage rates, what's the best move?
While high mortgage rates certainly make many folks question the affordability of homeownership, if you're planning on the home you buy to be your "forever" home—and if you can make the monthly payment work by choosing a home in one of the more economical tiers, or by reducing your personal expenses in other ways—then you might want to step into the market and see what's available. Especially in Vegas, you'll likely enjoy a great deal of appreciation in your equity.
Wondering what might be the best strategy for your specific financial situation? We'd love to talk with you about it.
Make an appointment and we'll give you a call.
And if you're not quite sure how to move forward in your homeownership journey, give us a call today at 702-357-4670. We'll help you talk through your options.